Laminated countertop manufacturing and renovation company
Call us for a free quote. 514-323-8888
Request our services for the manufacturing or renovation of a laminate countertop. We offer our services in Montreal and surrounding cities.
Why choose laminated countertops?
Many materials are used to manufacture countertops: melamine, polyester, lacquered MDF, thermoplastic and laminate.
Laminate is a wise choice for the manufacture of a kitchen countertop. Laminate is aesthetically pleasing and offers several finish options.
Moreover, this material is resistant to shocks, scratches, stains, and humidity.

Count on us to make a quality laminate countertop for your kitchen.
We build quality laminated countertops for your kitchen in Montreal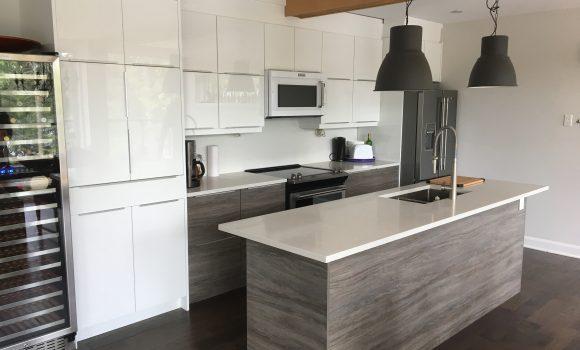 Our strengths
Our services
Bookcase fabrication and renovation.
Laminated countertop fabrication and renovation
Wardrobe fabrication and renovation
Bathroom cabinet manufacturing and renovation
Kitchen cabinet fabrication and renovation
Commercial countertop fabrication and renovation
Our strengths
Top-of-the-line products
Fast service
Attractive rates
Specialists in laminated countertop creation and renovation in Montreal
In addition to manufacturing, you can entrust us with renovating a laminate kitchen countertop.
Our services include evaluating the condition of the countertop, preparing a quote, and doing the repair work.
You can be sure to get a job well done for refurbishing your furniture, whether it is old or damaged after a disaster.

We also offer other services, such as bookcases, kitchen furniture, bathroom cabinets, and wardrobes. 
We'll know how to renovate your laminated countertop, whether it's outdated or damaged after a disaster