Bathroom cabinet manufacturing or renovation company
Call us for a free quote. 514-323-8888
Present in Montreal, we manufacture and renovate all types of bathroom cabinets.
A bathroom cabinet for every taste
In addition to facilitating the storage of toilet accessories, the cabinet improves the aesthetics of a bathroom.
It can be made in a classic or contemporary style, depending on the model you like.

We create small or large bathroom cabinets, depending on the space available. We will define together the number of drawers and shelves making the storage unit.

By using our services, you will benefit from a quality bathroom cabinet at a lower cost.
You can be sure that we will adapt to your needs and budget when manufacturing storage furniture.
By requesting our services in Montreal, you will benefit from a quality bathroom cabinet at a lower cost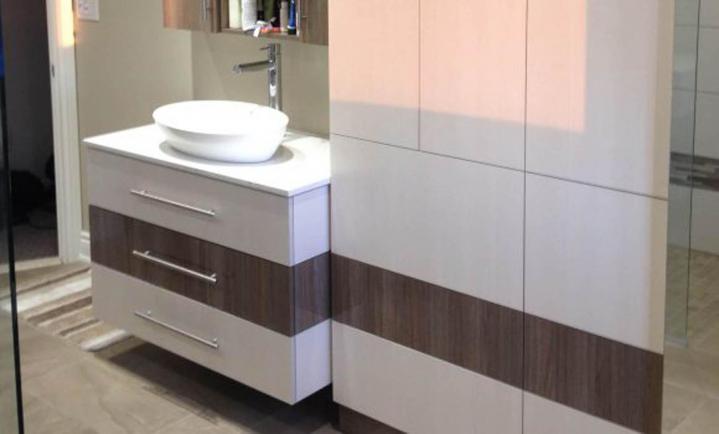 Our strengths
Our services
Bookcase fabrication and renovation.
Laminated countertop fabrication and renovation
Wardrobe fabrication and renovation
Bathroom cabinet manufacturing and renovation
Kitchen cabinet fabrication and renovation
Commercial countertop fabrication and renovation
Our strengths
Top-of-the-line products
Fast service
Attractive rates
Custom bathroom cabinet manufacturing in Montreal
Rely on our know-how to build a custom bathroom cabinet. We create vanity units, storage columns, and much more.
Our materials include melamine, laminate, lacquered MDF, and thermoplastic.

You can also contact us to renovate a bathroom cabinet, regardless of its condition.
Bookcase, laminate countertop, kitchen cabinet, and commercial countertop restoration are also among our services.
We will know how to renovate your bathroom cabinet, regardless of its condition